Privat driver in Casablanca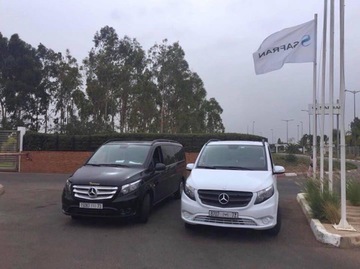 Privat driver in Casablanca. Are you looking for a private means of
transport in Casablanca to accompany you in all your travels in adapted and comfortable
vehicles? The company Tamaris Golden Tours provides its private and corporate
customers with high quality tourist transport services in the city of Casablanca. The city
of Casablanca has many tourist places to visit often unknown to the general public and
tourists. These places are worth the trip. Here are some of the places that make up our
tours: the Habous district, the Hassan 2 mosque, Rick's Café, the Church of the Sacred
Heart, the Mohamed 5 Square, the Royal Palace, the Arab League Park, the Judaism
Museum, the Church of Our Lady of Lourdes, the United Nations Square, the Central
Market, the Villa des Arts, the islet of Sidi Abderrahman, the Beth-El Synagogue, the
Lighthouse of El Hank, the Museum of the Abderrahman Slaoui Foundation, the Moulay
Youssef Mosque, the Ould el-Hamra Mosque, the RABBI ETTEDGUI Synagogue, and
many other places that will make your tours exciting and entertaining!
We offer you varied and personalized tours in the city of Casablanca. Our team is here
to advise and guide you in the choice of your tours whether your approach is personal or
professional. Our offer of varied tourist transport services is there to satisfy your needs.
Vehicles. To insure your sightseeing tours in Casablanca, the company Tamaris Golden
Tours provides you with a wide range of adapted vehicles, insured and meeting
international standards in terms of passenger transport. We also offer various ranges of
vehicles, including luxury vehicles, minivans and many other vehicles. Our team will pick
you up wherever you are in the city at a time that suits you. This service is provided 7/7
days and 24/24 hours.